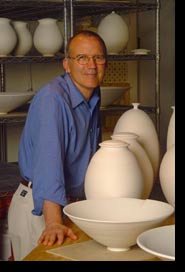 A Life-Long Passion
Many dream of the life they'd like to lead, but Nashville-based potter, Tom Turnbull is living his life's passion. The morning commute to his backyard studio begins a full day of creating one of a kind masterpieces infused with the joy he feels in his work. His trained eye and reverence for the porcelain is revealed in his designs which are found in fine homes, 5-star restaurants, public spaces and corporate boardrooms…anywhere people truly appreciate artistry and fine craftsmanship.
Individually Made and Marked
Meant to be loved and used for generations, Tom's pottery is meticulously hand-made, one piece at a time. And, from his simple yet stunningly elegant bowls to his extraordinary glaze paintings on porcelain, all are marked with his thumbprint to signify his commitment to his unique work and his connection to you, the user. As Tom's exquisitely beautiful work continues to evolve, each piece comes as much from his heart as his hands.
Nashville Pottery and Ceramics
Tom is a long time Nashville resident and member of Tennessee Craft and Southern Highland Craft Guild. He has been working and serving in Nashville arts community since 1986. His work can be found in galleries all over town including the LeQuire Gallery.
---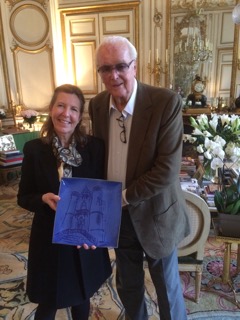 Tom donated pieces to the silent auction in support of the American Friends of Chantilly. As part of the event a Turnbull plate was presented to French fashion designer Hubert de Givenchy. De Givenchy is founder of the The House of Givenchy and designed iconic wardrobes for people like Jackie Kennedy, Ingrid Bergman, the Dutchess of Winsdor, Jayne Wrightsman, Greta Garbo, and famously for Audrey Hepburn in the movie Funny Face. You can help support Château de Chantilly by visiting the American Friends of Chantilly website or Facebook page.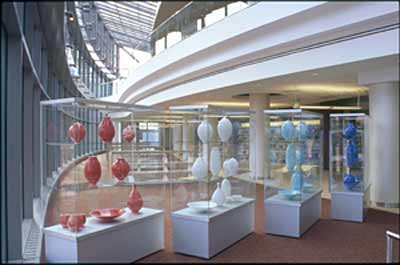 PRESS RELEASE President Bush Scheduled for Ribbon Cutting Thirty-six large porcelain vessels, hand-thrown by Nashville artist Tom Turnbull, have been selected for permanent display at the Center for Disease Control national headquarters in Atlanta, Georgia. When President George W. Bush cuts the ribbon to open the new center, Turnbull's pottery will be one of the first things the President and other dignitaries see as they enter the lobby. It may be the only art that they see, because Turnbull will be the featured artist at the grand opening. "This honor is well deserved," stated Greg Decker, a nationally recognized artist Read more »